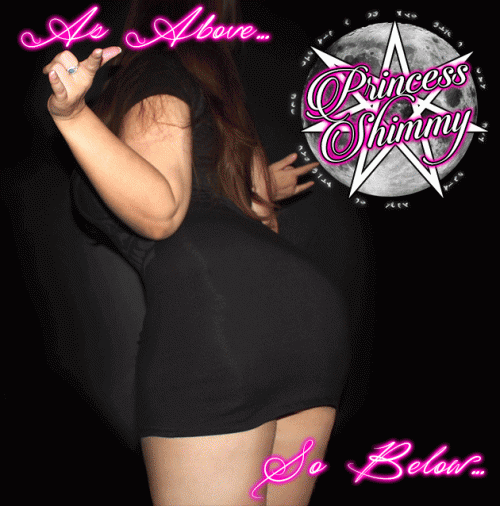 My name is Demoness Princess Shimmy and I am a High Priestess of the Black Arts and an Occult Findom Princess.
I created Femdom Witchcraft & Occult Femdom as a way to merge My passion for the esoteric mysteries with domination.  I love pushing the envelope and creating things that have never been seen anywhere in the Femdom world.  I'm channeling divine inspiration directly from the Spirits and bringing it here to Malkuth in order to expand My dominion over this plane.
In terms of spirituality, I am My own master and don't believe in bowing to some other "God."  I believe there is no greater God than Myself and that what which I am becoming through the process of Spiritual Illumination and Self Deification.
So where do you fit into all of this?
You are My spiritual target practice.
You are nothing but a tool and a stepping stone for Me.  A spiritual servitor that exists to further My agenda.  I bind you to My Will using Black Magick and employ whatever forces I deem necessary to get what I want.  I intend to perfect My skills as a Sorceress and what better way to do that than with you?
In My Magickal background I have experience with Chaos Magick, Hoodoo, Candle Spells, Astral Projection, Evocation, Sigil Magick, Black Magick, Curses and more.
To Know.  To Will.  To Dare.  To Keep Silent.
My Websites:
Financial Domination: Princess-Shimmy.net
Chastity Keyholding: Chastity-Princess.com
Humiliating Slave Assignments, MP3's, Pics, Spells & More: ControlFetish.com
My NiteFlirt PTV Store:  GoBroke4Shimmy.com
Public Slave Humiliation: FemdomFreakshow.com
Bitcoin Financial Domination: CryptoDomme.com
Clips:
Buy My Fetish Video Clips Direct: ClipFetish.com
C4S: Clips4Sale.com/31686
Phone Lines:
Call Me Direct: CallPrincess.com  1-844 BOW-DOWN // 1-844 269-3696
Femdom Witchcraft on NiteFlirt
Princess Shimmy on NiteFlirt
Follow Me:
Twitter: @Princess_Shimmy
Tumblr: FemdomWitchcraft.Tumblr.com